Over the years we've seen hundreds of students stop training because they can't get to the dojo. They move out of the area and their new house is "too far" from the dojo to keep training.
It's especially disappointing when teenagers that have been training with us since they were young children finish high school, go away to university and their karate journey stops.
We understand that people need to find their way in the world, but it's still sad. Of course we know that many of the lessons they have learned in the dojo will stay with them for life, but we also know the power that comes from making karate a central part of your life.
Nearly 2 years ago we were faced with the same issue once again. One of our teenage students at the time, Torsten had finished high school and moved to Brisbane to start his university studies. At first his story was the same as many others before him. He moved to Brisbane and stopped training.
Then life took a turn, for all of us.
Torsten was just a few weeks into his first semester of study when we all went into lockdown for the first time. Life as we knew it had changed, not just for Torsten, but for everyone.
We made the decision almost immediately to go online with karate classes. The very next day after the lockdown announcement, we had our first online Zoom class. At first we only ran a few classes, but once we realised that the lockdown was going to be extended, we converted our normal weekly training schedule of over 30 classes per week into online classes.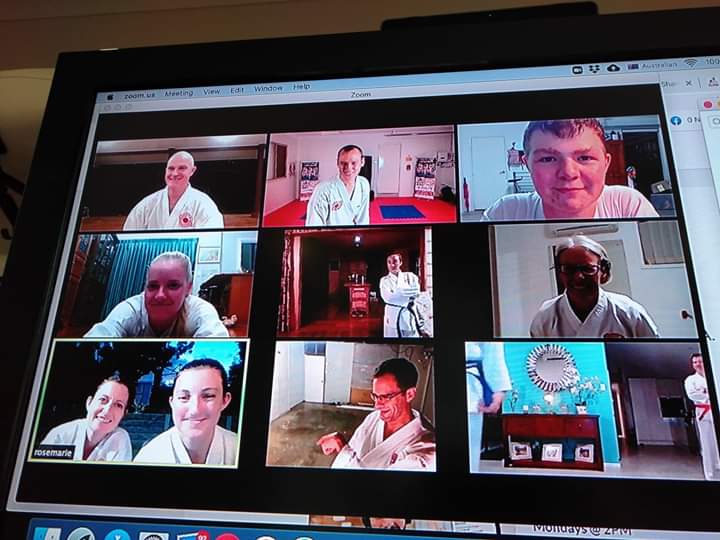 The online classes were a great success. Most of our student embraced the opportunity to continue their training and stay connected with other dojo members.
In a time a great uncertainty for everyone, we were able to help bring a bit of normality to the members of our dojo community. Although training online is a bit different to training at the dojo, we were all able to support each other and continue to grow as a community.
Throughout this time, Torsten's Dad Mark continued his own training online and before long he convinced Torsten to give it a try too. It didn't take much arm twisting, Torsten jumped online and he's been one of our regular online students ever since for the last 18 months.
Since then, we've had to take the dojo online exclusively a few time, but even during the times when we've been able to run classes as normal at the dojo, the online classes have continued.
For a while, Torsten was the only regular student online, but we now have a core group of students who train regularly online. There are a few others from out of the area, plus some locals who do a combination of classes at the dojo and online classes. And there are also a few students who make the most of the online classes when they're on holidays or just don't feel like driving to the dojo.
A while back, when Torsten was the only regular online student, made a video to share what it's like to do karate classes online, from his perspective. If you haven't seen the video it's definitely worth a watch.
Even though Torsten has been predominantly training online with us for the last 18 months apart from a few visits to the dojo when he's been on the Sunshine Coast, he's continuing to work his way towards black belt.
Just last night Torsten made a trip into the dojo for training as he was back on the Sunshine Coast for a visit and we were happy to make a presentation for his grading to 3rd kyu (brown belt white stripe). Torsten is a great example of perseverance, consistency and commitment.
Torsten's consistent effort is paying off as he continues to grow and learn more in his own karate journey, but he is living proof that just because you cannot make it the dojo, it's no excuse to stop training.