We hope that you have had a great Christmas and the opportunity to enjoy time with family and hopefully a bit of a rest as well. As we head into the new year, we'd like to take this opportunity to thank all of our members for their continued involvement at Sunshine Coast Karate.
At this time of year we always like to take a step back and review the year that has passed. Like every year before, 2015 has seen a lot of milestones in the dojo and in our personal life. Here are just a few:
We had two members grade to black belt, Debbie Woodhouse & Klaudia Caston
We've had record training attendance throughout the whole year, resulting in a surge of members progressing to higher levels
We celebrated the 15th Anniversary of Sunshine Coast Karate
Sensei Sandra launched her first book "The Beginner Blueprint". The first book of many more to come (we hope), in the A Way of Living Book Series.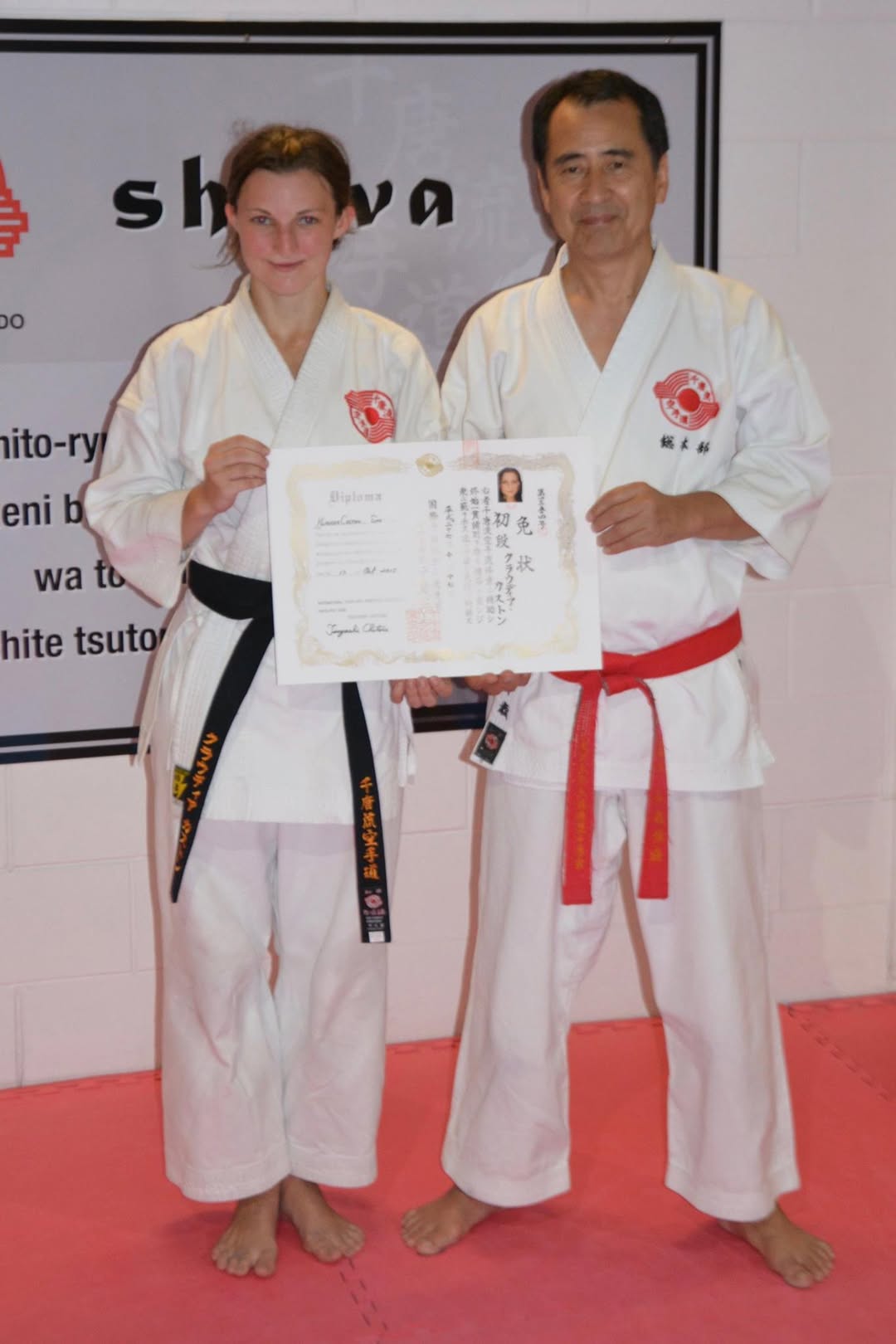 Senpai Klaudia Caston & Soke Sensei
After Klaudia received her shodan certificate and new black belt
In addition to reflecting on the year that has passed, we also like to look the future, reset goals for the year ahead and start setting the wheels in motion for an even bigger year.
As you probably already know, the dojo has been closed for 2 weeks over Christmas & New Years. But you don't have to wait any longer, classes will resume today (Monday 4th January 2016). If you're away on holidays enjoying time with family & friends, we'll see you in the dojo when you get back, but if you're still around town, we'd love to see you in the dojo.
Throughout the school holiday period, please note we are running on the holiday training schedule. Copies were distributed to all members dojo at the end of 2015, plus a copy was sent out by mail just recently, but if you haven't received your copy yet, please check the online version of the holiday training schedule. At this time, we have not finalised the 2016 training schedule that will be in effect after the school holidays, but it will be posted to the link above once complete.
To help kick off the new year in the dojo we have a few special bonuses for members to enjoy.
FREE upgrade to unlimited training for all members in January. To help get things moving again, all members can enjoy unlimited training in their regular classes at no additional cost.
2 Week Training Intensive: For Karate Kids, Teens & Adults (Sorry this one is not open to Little Champions. The idea is simple, do every class on the timetable for 2 weeks, Mon 4th Jan – Fri 15th Jan, plus bonus morning.
Kids

: Mornings 6-7am Mon-Fri, Evenings 4:30-7:00pm Mon-Thur & 4:30-6:00pm Fri
Teens/Adults: Mornings 6-7am Mon-Fri, Evenings 5:15-8:00pm Mon-Thur & 5:15-6:00pm Fri
If you're not up for the 2 week challenge, that's OK, you're welcome to come in and just do your regular classes.
Anyway, while you're waiting to get back into the dojo, here's a copy of our January newsletter to help get you in the mood.  Hard copies of the newsletter have been sent out to all members along with the holiday training schedule.  January 2016 Newsletter (PDF, 3.4MB)
In this issue:
Another year over, Another big year ahead
Back To Basics Training Intensive
January Birthdays
December Highlights
Upcoming Events
Our Christmas Present To You
Sensei Sandra's Book – The Beginner Blueprint
Looking forward to seeing you back in the dojo.